This year, Ai Mediq had the privilege of participating in the European Society of Cardiology (ESC) Congress held in the city of Amsterdam. As a leading medical company in the field of rehabilitation with IHHT, our presence at ESC underscored our commitment to bringing innovative solutions for cardiovascular diseases and rehabilitation. This prestigious congress brings together experts from private and public institutions worldwide to exchange knowledge and discoveries in the realm of cardiovascular medicine.
At the 2023 edition of ESC, we were elated to witness the spotlight shining on ReOxy Therapy, our innovative approach to cardiovascular rehabilitation. This therapy was featured in a clinical study led by the esteemed Dr. Wolfram Doehner from the Charité Institute in Berlin, Germany, in collaboration with Dr. Per Otto Schueller from the MEDIAN clinic group in Germany.
Dr. Doehner, a distinguished professor of interdisciplinary stroke research at Charité Institute, Berlin, has authored nearly 500 scientific publications in Cardiology and nutritional medicine. He is an active member of the ESC, demonstrating his commitment to advancing the field.
The focus of Dr. Doehner's study was the application of ReOxy Therapy in the rehabilitation of long-COVID patients. These individuals face an extended and challenging recovery period that demands extensive medical intervention and support. The pressing need for optimizing rehabilitation efforts in this context led Dr. Doehner and his team to explore the potential of ReOxy Therapy.
In a controlled clinical trial, Dr. Doehner's team administered ReOxy Therapy to 70 long-COVID patients during their in-house hospitalization rehabilitation period. The results of this groundbreaking study were presented by Dr. Doehner at the ESC congress, and his words resonated with hope: "We have observed an improvement in several of our test scores, as, for instance, the 6m walking test. We think this method could be a targeted rehabilitation procedure for patients in post-COVID and potentially beyond COVID patients in all rehabilitation settings."
Here are some key takeaways from Dr. Doehner's study that emphasize the significance of ReOxy Therapy in the realm of rehabilitation:
Seventy Patients Treated: In this controlled clinical trial, a diverse group of 70 long-COVID patients received ReOxy Therapy, underscoring its potential applicability to a wide range of individuals.
Significant Physical Capacity Improvement: The therapy demonstrated a remarkable improvement in the physical capacity of the patients, offering them a path toward regaining their strength and vitality.
Enhanced Quality of Life: Patients undergoing ReOxy Therapy reported a substantial enhancement in their quality of life, a crucial aspect of recovery.
Reduced Fatigue: One of the most challenging aspects of long-COVID is debilitating fatigue. The therapy led to a significant reduction in fatigue levels, aiding in a faster and more effective recovery.
Improved Subjective Perceived Health: Patients in the study reported feeling better and healthier.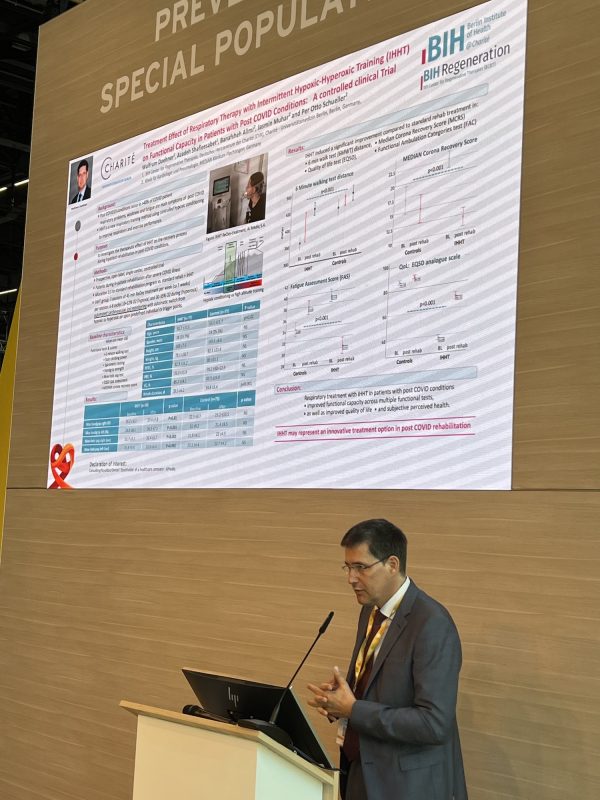 We also had the privilege to ask a few questions to Dr. Doehner about his experience with ReOxy and here is what he shared with us:
"ReOxy offers a highly beneficial feature: the automated measurement and adjustment of hypoxic load tailored to each patient's individual tolerance. Recognizing the uniqueness of each patient, this is the distinctive offering that sets ReOxy apart."
We extend our sincere gratitude to Dr. Doehner and his dedicated team at the Charité Institute, as well as the European Society (ESC), for hosting this immensely rewarding event. Additionally, we would like to express our appreciation to the Ministry of Luxembourg for their steadfast support, which has played a pivotal role in driving the growth and advancement of this innovative project.