How does it work?
Hypoxic and hyperoxic breathing gas mixtures are supplied via a facial mask.
The switchover between gas mixtures throughout a procedure performed automatically, controlled by biofeedback principle using SRT® technology.
The hypoxic treatment parameters are determined after a preliminary assessment of the patient's ability to adapt to hypoxic gas mixtures, by doing the Hypoxic Test.
Built-in intelligent software automatically identifies and suggests key treatment parameters for the Individual Treatment Program, based on the results of the hypoxic test.
At the end of each test, procedure, and treatment course ReOxy generates a summary report in pdf.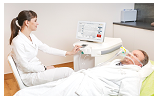 ReOxy Procedure