Ai Mediq is happy to introduce the world's first Medical Device for providing individualised, biofeedback-controlled Intermittent Hypoxia-Hyperoxia Therapy. ReOxy is the only medical IHHT device in the world which is regulatory approved (TUV Rheinland) and CE-marked for professional healthcare use.
About us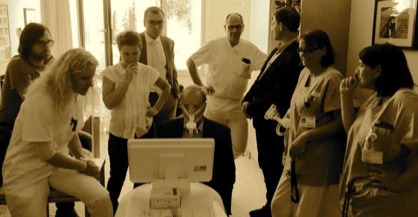 Ai Mediq is a Luxembourg-based ground-breaking medical technology company
that develops novel non-invasive therapeutic solutions leveraging
positive treatment effects of high altitude (hypoxic) exposure, medical
devices for Intermittent Hypoxic Treatment, and medical software
algorithms for its personalisation.
Our Partners
Manufacturing partner
Bitmos Gmbh is a company that focuses on design and distribution of sophisticated medical appliances and their on-site expert production. Bitmos designs and manufactures medical devices for patient monitoring, pulse oximetry and respiratory care. Its interdisciplinary teams are expert in developing innovative medical engineering solutions. Bitmos has been fully certified to EN ISO 13485 since 2003, while simultaneously implementing pure digital quality management system.
Besides full-service solutions for development of medical products (incl. industrial design, technical documentation and regulatory affairs), Bitmos team offers product optimisations, feasibility studies and detailed solutions. The core expertise at Bitmos lies in the development of medical electronics and software. All Bitmos products comply with the highest quality standards, and are continuously optimised with respect to ease-of-use and additional useful features. They have a clearly defined usage concept, innovative details, modern design, and high economic efficiency taking into account environmental concerns.
Clinical partners
The Сompany is supported by a long-standing Scientific Advisory Board which includes leading EU cardiologists, hypoxia research/altitude medicine specialists,  biostatisticians, and healthcare organisation experts.
Ai Mediq has a strong consortium in the field of clinically oriented medical research, including leading EU research organisations, universities and clinics, such as:
Luxembourg Institute of Health, LU
Department of Sport Science, University of Innsbruck, AUT
Eurac Research Bolzano, AUT
Charite Universitatsmedizin Center for Stroke, DE
Hermann Buhl Institute, DE
Department of Cardiology, IRCCS San Raffaele Pisana, Rome, IT
Istituti Clinici Scientifici Maugeri, IRCCS, Institute of Pavia, IT
Robertson Centre for Biostatistics & Clinical Trials, Glasgow, UK
All news